Four years of Go
Today marks the fourth anniversary of Go as an open source project.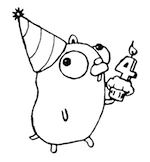 Rather than talk about our technical progress (there'll be much to talk about when we release Go 1.2 in a couple of weeks) we thought we would instead take this occasion to look at how the Go community has grown.
Let's start with a chart: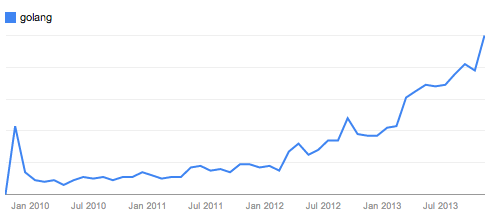 This chart shows the growth of Google searches for the term "golang" over the past four years. Notice the knee in the curve around March 2012, when Go 1.0 was released. If these searches are a decent proxy for interest, then it's clear that interest in Go has grown remarkably since launch, and particularly so in the last 2 years.
But where is the interest coming from?
The open source community has embraced Go, with our community wiki listing hundreds of Go projects. Some popular ones:
But this is just the tip of the iceberg. The number of high-quality open source Go projects is phenomenal. Prolific Go hacker Keith Rarick put it well: "The state of the Go ecosystem after only four years is astounding. Compare Go in 2013 to Python in 1995 or Java in 1999. Or C++ in 1987!"
Businesses are enjoying Go, too. The Go Users wiki page lists dozens of success stories (and if you use Go, please add yourself to it). Some examples:
In September 2012, Apcera CEO Derek Collison predicted that "Go will become the dominant language for systems work in [Infastructure-as-a-Service], Orchestration, and [Platform-as-a-Service] in 24 months." Looking at the list above, it's easy to believe that prediction.
So how can you get involved? Whether you're a seasoned Go programmer or just Go-curious, there are many ways to get started in the Go community:
The Go team has been amazed by the growth of the Go community over the past four years. We are thrilled to see so many great things being built with Go, and deeply grateful to work with our wonderful and dedicated contributors. Thank you, everyone.
Here's to four more years!